In the summer months guests are offered a pleasant seating in the garden located on a romantic bridge over the river Tepla, overlooking all the beauty and breathtaking sights of the historic center. In all restaurant spaces and in the lobby bar it is possible to use free wi-fi internet connection. Pets are not allowed.
Menu
Opening times: daily 11:30 a.m. - 10:00 p.m.
Unique restaurant
The unique restaurant spaces were designed in 1938 by the architect from Karlovy Vary Dr. Ing. Mewes and were divided into four parts:
The Dutch Chamber
There dominates a huge tiled stove. The wall painting of rural life in the Netherlands is by Carlsbad painter Seeman. There is a model of Gothic Town Hall of Amsterdam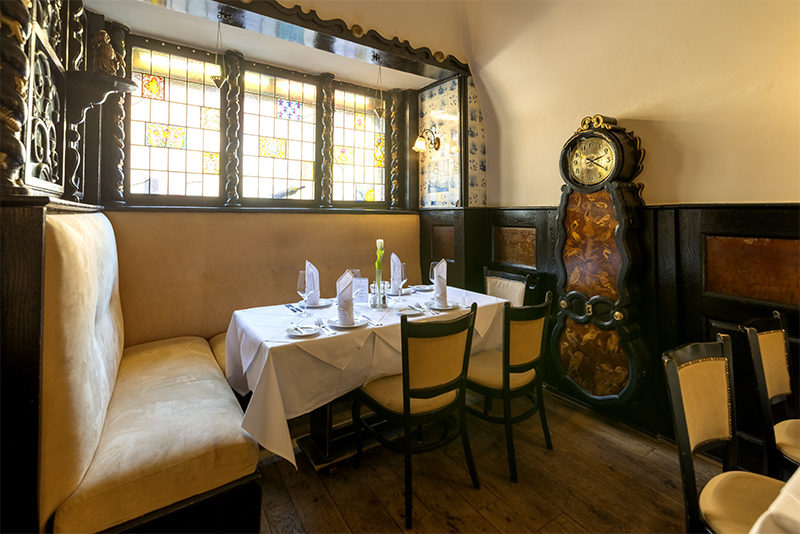 The Raven Nest
Country style parlor as in Cheb town. Iron bars are the works of artistic (locksmith) Paithner, raven chandelier, artistically carved clock. The walls are decorated with ceramics shelves.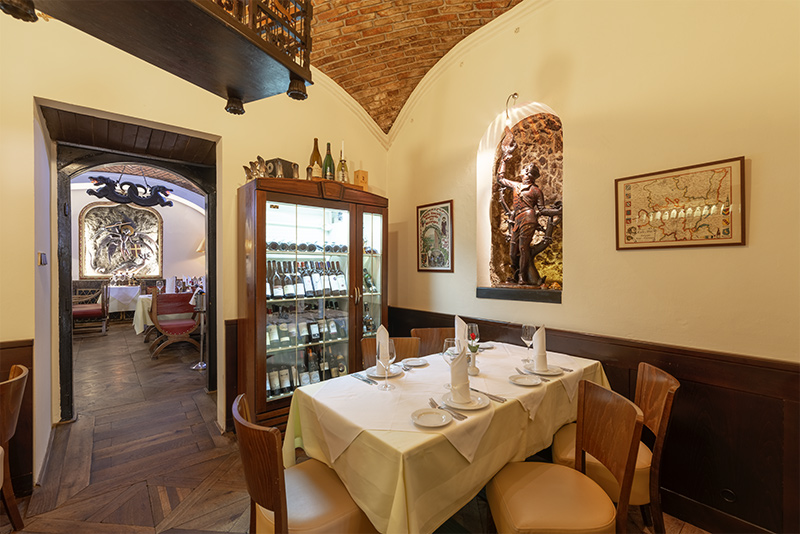 The Falcon Chamber
Sign welcomes visitors here: Let your eyes always look like falcon eyes! From the ceiling hangs a falcons cage of carpenter Alferyho Julia Fisher. Reliefs of branches on the walls. Medieval falconer from sculptor Willy Russ.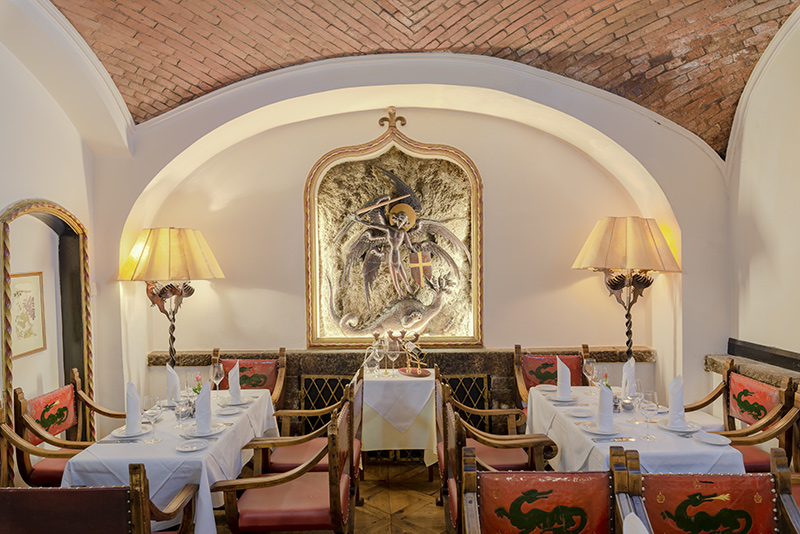 The Dragon Cave
On the front wall is St. Michael, victor over the dragon. Chandelier is also like dragon. Dragon motifs are repeated also on iron stands. Right above the princely throne is picture of a knight. Tables and chairs are covered with brushed leather. Here used to be the original stable building.
Renowned restaurant
In the duration of the International film festivals many distinguished guests visited the restaurant - eg.: Juliane Moore, Robert Redford, Michael Douglas, Gérard Depardieu, Antonio Banderas, René Zellweger, Jude Law, Robert de Niro, Morgan Freeman, Danny de Vito, John Malkovich, John Travolta, Mel Gibson and others.